Around a year ago I was sent this pair of boots to review. I always feel bad – when companies send me boots, they always seem to arrive at an odd time and it takes awhile to get a decent review done.
Anyway, a PR Company reached out to me about AKU Boots. According to their site, "For over 40 years AKU has been in the business of creating the highest quality outdoor footwear available. Based in Montebelluna, Italy – the core of the Italian outdoor footwear industry, we are dedicated to our craft of creating the finest boots and shoes."
The company has several lines of boots including a fill line for hunting and one for tactical/military use.
They were kind enough to send me a pair of the Pilgrim High GTX Combat boots to try.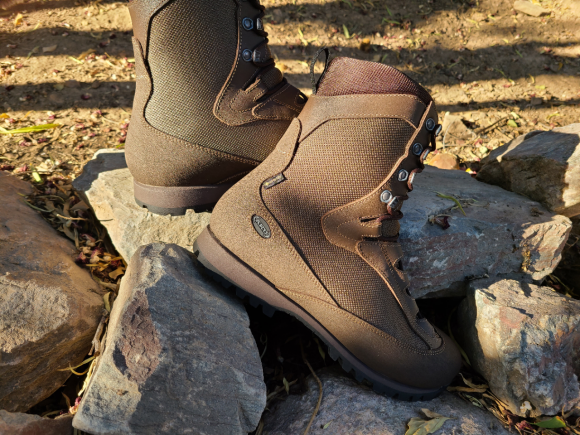 The description of these boots states
The Pilgrim HL GTX Combat is a true multi-purpose highly breathable boot with outstanding support, stability and impact absorption. The ankle protection is delivered by the special design of the upper. Thanks to these features, Pilgrim HL GTX Combat performs well in stability for demanding and dynamic conditions.
They retail for around $250
Boots are funny, and sometimes tough to review. Living and hunting in Arizona, I deal with heat, and prickly, nasty terrain. I think I have ankles that roll easy so I like support, but not stiff like ski boots. I typically take a size 10 Wide, so I am always a little concerned when a company doesn't have sizes in Wide – that they won't fit will. I'm also concerned with breathable materials or similar – cactus needles are a constant, no matter where you are hunting in Arizona. When I received the boots they looked really narrow but when I slipped them on, they really felt good – maybe a tidge snug width-wise, but not unwearable by any stretch.
At first examination, these boots are extremely well-made, well-designed and of very high quality. There is clearly no shortcuts in manufacturing or materials. A deer hunt in southern Arizona, and a javelina hunt in mid-Arizona later – I feel I have given the boots a good workover. I'm happy to report that they are super comfortable. I wear them all day and my feet don't get sore, and I don't develop a sore back or fatigue like I do with some footwear. The Vibram soles have stood up to everything that has been thrown at them and handled everything well. They offer a great grip, regardless of terrain – even on bare rocks, when wet, in dirt, mud – whatever. Maybe once or twice has a cactus needle pierced the side of the boot, but frankly I was surprised – nothing near what I expected or feared.
As mentioned, the boots are really comfortable, sturdy, and easily handled the rigors of Arizona hunting. Climbing hills, traipsing two-tracks, descending canyons – not a single complaint. They get the Desert Rat Seal of Approval. Considering they are made in Italy, the price tag is right on and a great value, looking at some other high-end brands of boots. If you are boot-shopping, I'd really recommend that you have a look at AKU Boots. You can also check out their SALE online, and learn more about their cool spirit of corporate responsibility also.
All in all, great boots, great price point. Cool company.